Karla Vanessa Perez, a Mexican woman already nicknamed NuevaMom by TMZ and other
celebrity gossip
sites, is reportedly pregnant with nine kids! NINE!
That puts Octomom to shame! Or at least beats her by one embryo.
Perez is a month away from giving birth to
six girls and three boys
. Like Nadya Suleman, fertility treatments led to her record-breaking multiple pregnancy.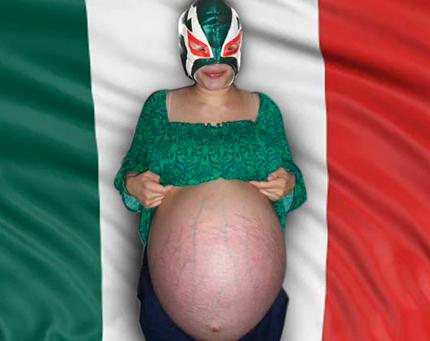 Perez confirmed the news to Mexico's Notimex news agency, saying, "It's very early to think of names for the babies ... first I hope that everything goes well."
We hope so too ... during the pregnancy and afterward. In Octomom's case, it has not, judging by the fact that she's now on welfare and
may lose her kids
.
No word yet if NuevaMom is also unmarried, with six offspring already, financially insolvent to the point where her kids have to poop outside, and/or insane.
UPDATE: She may be a fraud, according to TMZ.
Univision claims it has information that could prove Perez isn't really pregnant at all ... A reporter spoke with a Mexican doctor who performed an ultrasound on NuevaMom and determined her uterus was "empty."
The doctor told a reporter she is unaware of other ultrasounds and is trying to find out who told Karla she was even pregnant in the first place.