The strange case of Thomas Beatie - an individual born as a woman, but known as The Pregnant Man for undergoing gender reassignment surgeries during pregnancy and soon after - is only growing stranger.
Earlier this month, we reported that
Thomas and wife Nancy
were separated. Then, it came out that the former has filed divorce documents in which he accuses
the latter of assault
.
Now,its reported that
Nancy Beatie is broke
and homeless, often living out of her car.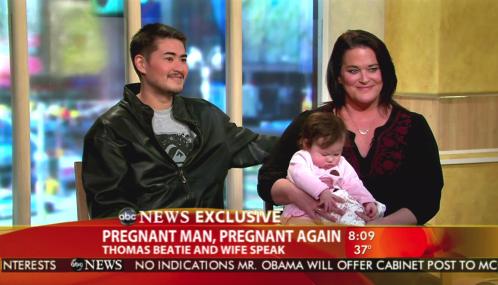 "I'm house sitting right now, cleaning it for another two days… but I don't know where I'll go after that,"
Nancy tells the site of her predicament, adding that she's been pawning possessions for cash. "I have some junk gold that I grabbed when I had to leave... broken rings and bracelets, not worth much but it's a start."
Thomas alleges that Nancy is a violent alcoholic who has assaulted him, unprovoked, on numerous occasions. A judge has granted him a restraining order against his estranged wife, limiting her time with the couple's three kids.
A May 7 hearing regarding spousal support and custody will be the next step for the troubled couple.